2nd Friday ArtWalk
Friday, March 10, 2023 | 5:00 p.m.
–
9:00 p.m.
This event requires purchasing a ticket.&nbsp
$Free – 15
Join us for a 2nd Friday filled with Spring experiences! We will have Morgan Moylan of West Queen Studio leading an interactive floral installation. She will be working on the piece between 5-9 p.m.; people are encouraged to come watch, ask questions, and add floral elements to the installation with Morgan's guidance. Admission to the floral installation is free.
We will also have a wine and art experience led by Team Vino. This is a ticketed event (tickets available below for $15.) Heighten your experience of art by engaging your senses in a wine and food taste exploration.  Team Vino will guide you through three wines selected to complement three pieces on view.  You will also enjoy thoughtfully paired nibbles from Root Cellar Cafe and Catering.
Museum and Floral Installation are free to the public; a limited number of Wine Experience tickets are for sale onsite at the event.

Click here to learn more about West Queen Studio.
Click here to learn more about Team Vino.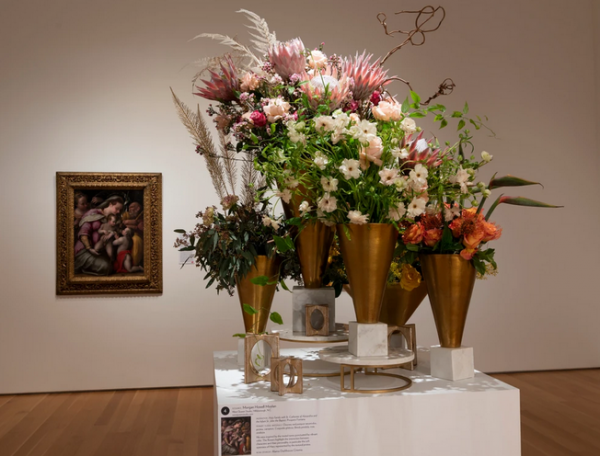 View More Events By Type
Audiences
Exhibitions
Categories
Events Navigation