Ackland FAM: Woodruff's Landscapes
Sunday, February 27, 2022 | 1:00 p.m.
–
5:00 p.m.
Free, self-guided activities available in person
Join the Ackland as Ackland F.A.M. (Families at the Museum) focus on one of the Harlem Renaissance's leading artists, Hale Aspacio Woodruff and his piece, Landscape (Mississippi, Soil Erosion), seen on the right.
We will be considering the variety of ways that humans depict and interact with their environments by looking closely at Landscape (Mississippi, Soil Erosion), featured in the Ackland's Close Looks initiative.
Activities marked with an asterisk will be available following Family & Friends Sunday while supplies last!
Family & Friends Sunday
February 27 | 1-5 p.m.
Storytime | 1:30 p.m.
Join the Ackland's Public Program Team as we read Harlem Renaissance Party by Faith Ringgold! Meet in ART&. Book is appropriate for ages 3 and up.
Woodruff Inspired Yoga | 2:00 – 3:00 p.m.
Wear comfy clothes and meet in ART&. Mats are provided and instruction is provided by Ona Hawk via a Spelman Museum of Fine Art recorded Yoga session (60 mins). It is appropriate for all ages and skill levels.
Video Courtesy of: Spelman College Museum of Fine Art, 2021
Landscape Scavenger Hunt*
Search the Ackland's collection for more examples of how artists choose to represent the environment.
Family Art Kit*
Pick up a kit to use in the galleries or at home to make your own layered landscapes inspired by Hale Woodruff's Landscape (Mississippi, Soil Erosion).
Kids' Compare and Contrast*
Stop in Gallery 14 and discuss the similarities and differences between Hale Woodruff's Landscape (Mississippi Soil Erosion) and Jean Metzinger's Landscape.
Virtual Landscape Tour
Explore other works by artist Hale Woodruff. Consider how he uses color, shape, and line to create his art.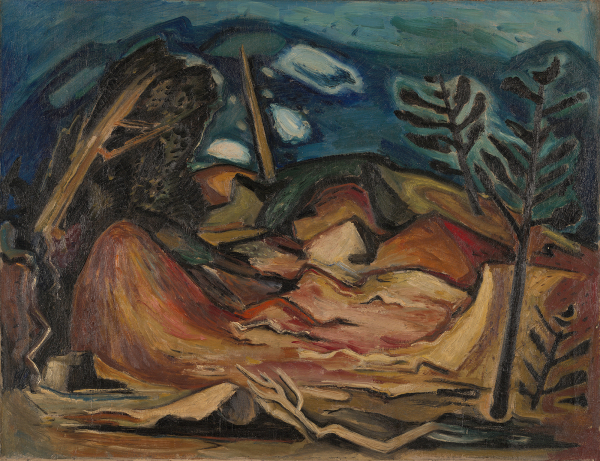 View More Events By Type
Audiences
Exhibitions
Categories
Events Navigation