Ackland Film Forum: "Filibus" Watch Party and Panel
Tuesday, February 2, 2021 | 7:30 p.m.
–
10:00 p.m.
Virtual Event
Free; registration required.
Virtual Event
This spring, in collaboration with the Film Studies Programs in the Department of English and Comparative Literature at UNC-Chapel Hill, the Ackland Film Forum continues its all virtual series on Queer Cinema, now expanding to a selection of four international films for a look at Global Queer Cinema. View the selected films on your own or join us for a watch party. Watch parties will be followed by a live post-film panel discussion with scholars from around the globe.
The first film in the Global Queer Cinema series will be Filibus (Mario Roncoroni, 1915, Italy). The film will be available to stream January 29-February 4, 2021 with a watch party on Tuesday, February 2 at 7:30 p.m. followed by a live panel discussion at 9 p.m. Register below to receive a link to stream the film and a link to attend the panel via Zoom on February 2.
This program is sponsored by UNC University Libraries. The series is supported in part by Laughing Gull Foundation.
About Filibus
Directed by Mario Roncoroni and scripted by future science fiction author Giovanni Bertinetti, Filibus is the most exciting, witty, feminist, steampunk, cross-dressing aviatrix thriller you will ever see! Previously seen in a badly subtitled, imperfect version, Filibus was recently remastered by the Eye Filmmuseum, restoring the film's marvelous range of Desmet tinting and toning in the original nitrate material. To bring the film back to its flavor of the period — when the characters Fantomas and Arsène Lupin were worldwide sensations — Milestone hired young poet Austin Renna to write new intertitles based on an improved translation by Eye's archivist Elif Rongen-Kaynakçi. To go with this fantastical film, the famed Mont Alto Motion Picture Orchestra AND Donald Sosin have created two new stunning scores! –Milestone Films
Tuesday, February 2, 2021
Filibus Watch Parties | Tweet along with Ackland and UNC Film Studies using #AcklandFilmForum
7:30 p.m. Watch Party
9:00 p.m. Panel
Link to the panel is provided with registration. Streaming links will be sent at a later date. Registration is open!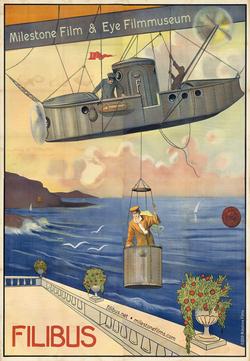 Additional Event Details
Sponsored by
View More Events By Type
Audiences
Categories