Ackland Away for the Day: FRANK
Thursday, September 9, 2021 | 10:00 a.m.
–
11:30 a.m.
Free, Registration Required
Join us on an Ackland Away for the Day trip to FRANK gallery to meet painter Gordon Jameson and textile artist Michelle Maynard. They will discuss their current works on view as well as the history of FRANK gallery.
Gordon Jameson learned to use (and love) oil paint at about the age of 8 from his grandmother. Jameson graduated from Franconia College in 1977 with a degree in painting and fine art, moved to Boston, MA and set up a studio. He had his first public exhibition at Gallery 281 on Newbury Street, Boston the following year. From Boston, Jameson worked and lived in San Francisco, Los Angeles, finally settling in North Carolina in 1993. Jameson has shown his work nationally and is in many private collections in the US and Europe. Over the years, Jameson has been an active member of the art community having served on Boards or as a member of a number of organizations. He was one of the founding member artists of the Franklin Street Arts Collective (FRANK Gallery) in Chapel Hill, NC, and was its Board Chair for six years.
Michelle Maynard grew up in Atlanta and Honolulu. She earned an MFA in 1980 from the University of Michigan and has taught at the Oregon College of Arts & Crafts and the Penland School. Michelle's artwork is in city and state collections in the Northwest and numerous corporate collections around the US. She moved to Chapel Hill, NC in 1989, raising a family in the spanning years. Her past commercial work includes print designs for Fabricart, Inc, illustration for Whole Foods Market and the World Wildlife Fund Canada. She was a founding member of Frank Gallery in Chapel Hill.
Learn more about FRANK here.
Image Credit: Michelle Maynard, American, Threadpoem, Jardin, du Pin, hand stitched fabric collage, 14 in x 14 in. (35.56 x 35.56 cm).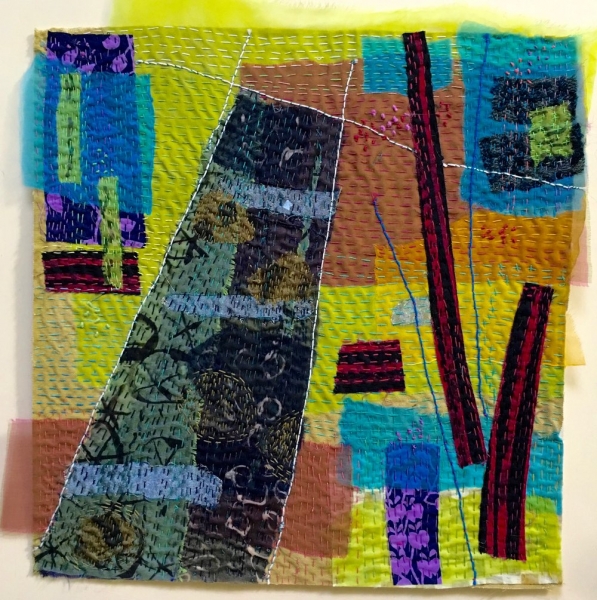 View More Events By Type
Audiences
Categories