SUSPENDED: Tai Chi in the Galleries
Monday, April 6, 2020 | 1:10 p.m.
–
2:00 p.m.
Free for Members; $5 for Non-Members
The Ackland Art Museum has suspended this program until further notice as part of our response to the spread of coronavirus COVID-19 and based on recommendations from the University of North Carolina at Chapel Hill. Any additional updates will be posted on the Museum's website.
Join us for Tai Chi in the Galleries, inspired by the renowned Asian art collections at the Ackland!
Tai chi is an ancient Chinese movement practice known to reduce pain and improve your mental and physical balance and well-being. This class uses gentle Sun-style tai chi routines that are safe, easy to learn, and suitable for all ages and fitness levels.
Tai Chi in the Galleries takes place most Mondays from 1:10-2:00 p.m. and is taught by Joanne Marshall, a certified yoga and Tai Chi for Health instructor. All movements are done standing. Wear comfortable clothes and supportive flat shoes.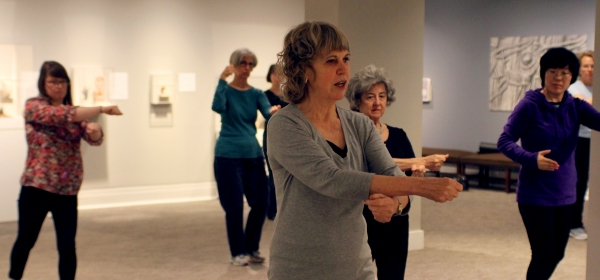 View More Events By Type
Audiences
Categories
Events Navigation