Virtual Family & Friends Sunday: Pottery and Postcards
Sunday, March 28, 2021 | 2:00 p.m.
–
5:00 p.m.
Zoom (Link Provided with Ticket)
Explore the Tar Heel State through pottery and postcards! Get a closer look at works from the Ackland and Wilson Library's Special Collections. Both pottery and postcards can be functional, aesthetically pleasing, and fun to make! Each can also inform us about the past-  what North Carolina used to look like or how objects have changed over time.
Each month, the Ackland hosts a free D.I.Y program for families, kids, and the young at heart featuring hands-on art activities, live performances, tours, and more.
A mix of D.I.Y. and live interactive activities await you, inspired by central North Carolina!
North Carolina's First Peoples and Pottery
We start off with North Carolina's First Peoples, many who were potters and makers. Explore this page for information about early pottery in our area, and thank you to the Research Laboratories of Archaeology at UNC-Chapel Hill for this research!
Art-Making Activity: Coil Pots
Watch a quick YouTube video to learn how to make a Salt Dough Coil Pot!
Make a Coil Pot with Salt Dough Clay PDF (Accessible)
"The Woodland people at Doerschuk who made Badin ware used manufacturing techniques similar to those in neighboring regions. They strengthened vessels for firing by adding sand and sometimes pebbles to the wet clay. Also, like people throughout the ancient Southeast, they used the method called coiling to make their pots.
Basically, coiling involves making long ropes or "coils" of clay. Starting at the base, potters build the vessel's walls by placing coils on top of each other. They then blend the coils together and thin the walls by hitting the sides with a wooden paddle. After the walls are built and paddled, the pot is then fired to harden the clay.
Often people wrapped the paddle with string, or covered it with fabric, or carved it with a design. Every time the paddle hit the pot (while the clay was still wet, of course), it left a reverse impression of the string or design on the pot's surface. Archaeologists call this technique paddle stamping." – Research Laboratories of Archaeology at UNC
Virtual Mini Field Trip -Seagrove, N.C.
The town of Seagrove is a destination for pottery enthusiasts and makers alike! It is home to the NC Pottery Center. 
Watch these short clips to learn more.
Read this article about Seagrove in Artsy.
Postcard Exploration
North Carolina Postcards is a project of the North Carolina Collection, located in historic Wilson Library at the University of North Carolina at Chapel Hill. The North Carolina Collection Photographic Archives holds more than 12,000 North Carolina postcards contained primarily in two collections: the North Carolina Postcard Collection and the Durwood Barbour Collection of North Carolina Postcards.
This digital project contains a selection of materials from the North Carolina Collection's postcard collections, including at least one image for each of North Carolina's one hundred counties. Several counties have a close tie to pottery historically or culturally, which we have listed below (this list is by no means complete!)
Buncombe County, North Carolina
Haywood County, North Carolina
Collection Connection
Currently, a variety of North Carolina ceramics is on view in Object Lessons through May 14, 2021. Explore the full exhibition virtually on Kuula. This portion of Object Lessons was curated with Professor Patricia Sawin, who is utilizing the Ackland's collection in her "Introduction to Folklore" class.
You will see several examples from Jugtown Pottery, which is located in Seagrove, North Carolina.
Artist Spotlight: Mark Hewitt
Learn more about the local artist Mark Hewitt, whose work is featured in Object Lessons!
Works in the Ackland's Collection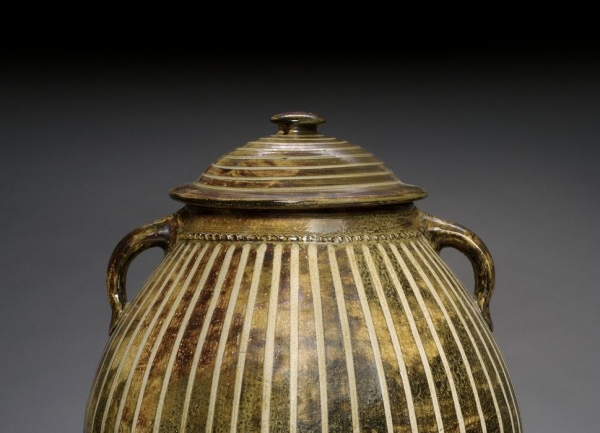 View More Events By Type
Audiences
Categories