Virtual Family and Friends Sunday: Kusama
Sunday, May 31, 2020 | 2:00 p.m.
–
5:00 p.m.
Free. Zoom registration required for storytime.
Explore the world of Yayoi Kusama with a storytime, polka-dot crafts, and a closer look at her works on display at the Ackland for our first Virtual Family & Friends Sunday!
Each month, the Ackland hosts a free program for families, kids, and the young at heart featuring hands-on art activities, live performances, tours, and more. Although the museum's doors are closed for our community's safety, you can still explore the art virtually!
A mix of D.I.Y. and live interactive activities await you, all inspired by the Ackland's current exhibition, Yayoi Kusama: Open the Shape Called Love.
Activities include:
Live Storytime
2:30 pm | Live Zoom Story time with Carrie Young, Public Programs Intern
Sign up here to join us for the reading!
Yayoi Kusama Covered Everything in Dots and Wasn't Sorry, authored by Fausto Gilbreti (Age Range: 4-7)
Art-Making
D.I.Y. Polka Dot Kaleidoscope Craft
Kaleidoscope Instructions (PDF)
Kaleidoscope Tutorial (video)
D.I.Y. Mini Paper Infinity Box Craft, created by former Ackland intern Anabelle Quarles
Mini Paper Infinity Box Template (printable)
Want to learn more about Yayoi Kusama and other women artists? Look closely at the piece by Yayoi Kusama: Self-Portrait, 2008 in the NMWA collection.
Slow Art Activity from the National Museum of Women in the Arts
Artist Spotlight Videos
Yayoi Kusama: Open the Shape Called Love video with Ackland Curatorial Assistant, Amy Swartz (3 mins)
Yayoi Kusama- Obsessed with Polka Dots from the Tate, London (7 mins 23 sec)
ZERO IS INFINITY ZERO and Yayoi Kusama Exhibition Video, from the Yayoi Kusama Museum, Toyoko (5 mins)*
Yayoi Kusama's LIGHT OF LIFE 2018 from the NCMA (32 sec)
Kusama: Infinity, free with Hulu subscription (1 hr, 20 min)
*Scroll down to black box near center of page. Allow time for the video to fully load.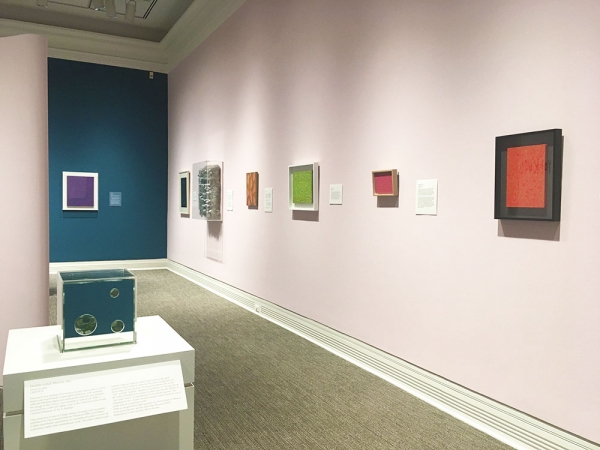 View More Events By Type
Audiences
Categories
Events Navigation