Virtual Family & Friends Sunday: Year of the Ox
Sunday, February 28, 2021 | 2:00 p.m.
–
5:00 p.m.
Zoom (Link Provided with Ticket)
Celebrate the Chinese Lunar New Year (celebrated on February 12, 2021) with a storytime, UNC-Chapel Hill's very own Flying Silk dance troupe, and a closer look at works on display at the Ackland!
Each month, the Ackland hosts a free program for families, kids, and the young at heart featuring hands-on art activities, live performances, tours, and more virtually!
LIVE Storytime: Chinese Lunar New Year
2:30 P.M. EST | Zoom
Join intern Katie Brandao on Zoom as we learn more about the Chinese Zodiac. Sign up here
The Great Race: The Story of the Chinese Zodiac,
authored by Christopher Corr (Age Range: 3-6)
YouTube
We welcome you to view a unique performance from UNC's only classical Chinese dance group, Flying Silk. The group participates in cultural showcases across the state with the aim of introducing and educating surrounding communities on the beauty of traditional Chinese dance culture.
Collection Connections:
Dish, Unidentified Chinese Artist, 1426-1435
Vase, Thomas Bezanson, 1959-69
The ox harkens imagery of strength and steadfastness, but it also lends its likeness to the richly colored red of the two glazed ceramics featured above. 'Sang de bouef' glaze, or oxblood, gained prevalence in the Chinese Ming Dynasty (1368-1644) and is characterized by its monochrome red. The striking coloring of 'sang de bouef' is achieved using copper oxide, whose chemical composition allows for the pottery to mimic the depth of its namesake animal's blood.
The Ackland holds both an original dish from an unidentified Chinese artist of the 15th century  and a mid-20th century vase from Canadian artist Thomas Bezanson in its collection, both of which utilize the sang de bouef glaze.
To learn more about the history of 'sang de bouef,' we encourage you to explore these resources:
'Sang de Bouef' Vase, The Cleveland Museum of Art
Vase, called "The Flame", National Gallery of Art
D.I.Y. Origami Metal Ox Envelope and Bookmark
Envelope and Bookmark Instructions (PDF)
To celebrate the Year of the Metal Ox, make an ox-inspired envelope or bookmark! Activity kits are available at the Front Desk from Wednesday, February 24 to Saturday, February 27 for pick-up. Kits are limited to first come, first served. Step by step directions available above!
Want to create more Metal Ox inspired art? Explore activities created by The Metropolitan Museum of Art's for their Virtual Lunar New Year Festival.
We suggest the D.I.Y. Confetti Poppers and the Dazzling Dragon Puppet.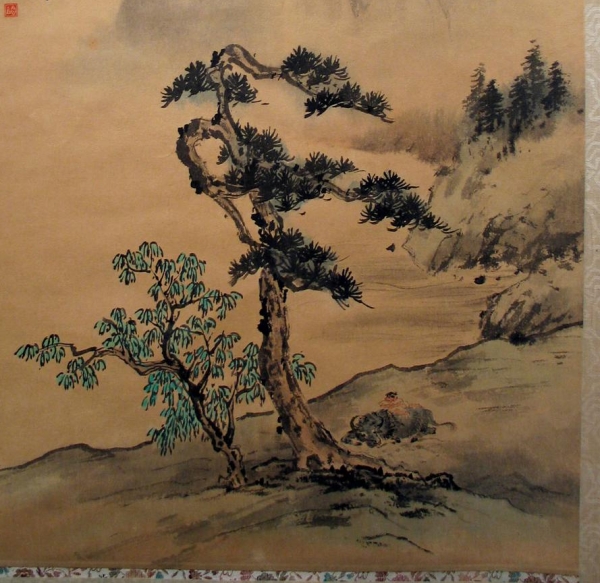 View More Events By Type
Audiences
Categories