Ackland Film Forum: "The Last Forest" (Luiz Bolognesi, Brazil, 2021)
Tuesday, March 28, 2023 | 7:30 p.m.
–
9:00 p.m.
Join us for the next screening in the Ackland Film Forum's Spring 2023 series Do Something: Responding to Climate Change presented by UNC Film Studies and the Ackland Art Museum.
"The Last Forest" (Luiz Bolognesi, Brazil, 2021)
Varsity Theatre, 123 E. Franklin Street | 7:30 p.m.
Free Tickets at the Varsity Theatre
Introduction by Dr. Gustavo Furtado (Duke University)
SYNOPSIS
In this urgent, intimate film we see members of the Yanomami community, a group of approximately 35,000 indigenous people in Brazil who have struggled to preserve their traditional way of life for centuries, fight off gold prospectors and others who are threatening their home in the Amazon rain forest. Combining documentary footage and reenactments, this film gives us a rare insight into what our changing climate looks like from the prospective of those who are most affected by it. 
TICKETS
Free tickets are available the evening of the screening at the Varsity Theatre. UNC students can receive CLE credit for this event.
ABOUT THE SERIES
Do Something: Responding to Climate Change
Ackland Film Forum | Spring 2023
We are living in the age of the Anthropocene, a geological epoch shaped by human activity. And yet, we, as individuals, and as a society, have difficulty addressing the climate change that we helped create. In this series, we'll consider films in which humans respond to climate change. We'll see people who escape floodwaters, fight off mining companies, care for plants, launch protests, and simply take a walk in the woods. Instead of proposing a single way to address climate change, these films will offer us ways to contemplate the relationship between ourselves, the world we live in, and the world we want it to be.
Presented in connection with Ghost of a Dream: Aligned by the Sun (through the revolution) on view at the Ackland Art Museum through May 28, 2023.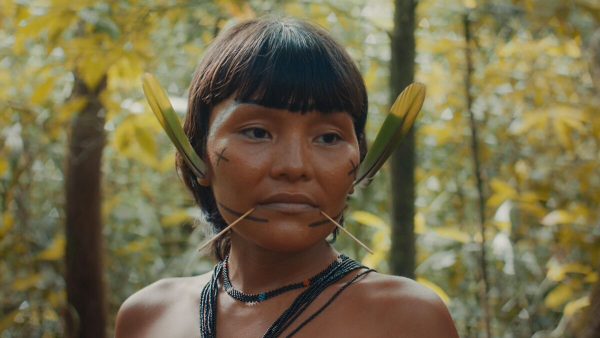 Additional Event Details
Sponsored by
View More Events By Type
Audiences
Exhibitions
Categories
Events Navigation