Work-in-Progress Film Screening: "Minnie Evans: Draw or Die"
Saturday, June 17, 2023 | 5:00 p.m.
–
6:15 p.m.
Join us for a special work-in-progress screening of the forthcoming documentary Minnie Evans: Draw or Die (dir. Linda Royal). The documentary explores the life and work of Eastern North Carolina artist Minnie Evans, whose work is featured in the Ackland's current exhibition Unsettled Things: Art from an African American South (on view through July 2, 2023). Following the screening, we will hear from director Linda Royal, producer Olympia Stone, anthropologist Elizabeth M. Penton, and Wayne Evans, great-grandson of Minnie Evans.
Space is limited; a free ticket is required.
—
ABOUT THE FILM
This is the story of Minnie Evans (1892-1987) whose artistic mastery of a lifetime of visionary dreaming is now recognized on a world-wide stage by art collectors. Born in 1892 in rural coastal North Carolina at a time of racial oppression of her community, Evans worked for decades as the gatekeeper of Airlie Gardens on Wrightsville Sound, NC. In the small wooden gatehouse, she produced hundreds of paintings and drawings. She gave her pictures to people who admired her work, and eventually hung them up near the gatehouse, selling them for a tiny fraction of what her work brings at art auctions today. Working with simple crayon and pencil, Evans' unique drawings combine exquisitely colored forms and elements of nature and spirituality into her own awe-inspiring creations. Read more on the film's website.
ABOUT THE PANELISTS
Linda Royal, (fka Booker) received a Certificate in Documentary Studies from Duke University in 2005 and started By the Brook Productions. Her documentaries "STRAWS," "Bringing It Home," and "Love Lived on Death Row" have won awards at U.S. and international film festivals and reached audiences globally through educational use, community screenings, corporate office events and in-flight entertainment. With her films, Linda has coordinated engagement and impact campaigns to address domestic violence, restorative justice and environmental policy in addition to educating thousands of students nationwide about single-use plastic pollution. Her first documentary project featured folk artist Clyde Jones and she's grateful to honor Minnie Evans with a new documentary film to recognize her as one of the greatest self-taught artists of the twentieth century.
Olympia Stone's documentaries have been showcased nationally on public television and have won numerous festival awards. Olympia's films probe the motivations and personal histories of extraordinary artists as a way of providing insight into their work. Aldwyth: Fully Assembled is Olympia's eighth film. Her other films include portraits of Richard Estes, Elizabeth King, James Grashow, and David Beck. Olympia's first film, The Collector: Allan Stone's Life in Art (2007), chronicles the obsessive collecting of her father, a New York art world gallerist whose habits and prescient scouting shaped his life and the lives of many in his artfully cluttered orbit.
Elizabeth M. Penton, PhD, A native of Wilmington, N.C., Liz has been teaching non-Western art and Anthropology at the college level for over 30 years. She took three degrees in Anthropology from the University of North Carolina at Chapel Hill with her dissertation work on Paleolithic cave paintings. A lifelong interest in art and culture, and visionary art in particular, has kept the works of Minnie Evans near the top of her mind. In 2020 she partnered with the Cameron Art Museum to engage in a disciplined analysis of the forms of Evans' drawings and paintings. Her forthcoming manuscript, Minnie Evans (1892 – 1987): A Beautiful Light, addresses the artist's complex use of perspective and showcases the artist's own words with the objective of elevating her oeuvre to its rightful place among the world's famous visionary artists. Liz is also on the production team with Linda Royal of By the Brook Films, creating a new documentary film on her life and works.
Wayne Evans is the great-grandson of Minnie Evans, who spent much of his formidable years living in Minnie's home. After 20 years of working with the special needs population in the New Hanover County School District, Wayne is now a Foster Care Administrator with fifteen years of experience working with a team of professionals in his district for a National Healthcare Company. His work ensures that all required records are in state compliance with North Carolina Foster Care State Regulatory policies. Wayne currently lives in Raleigh, North Carolina. In his free time, he enjoys reading comics, fantasy fiction novels, especially the writings of Anne Rice and other similar authors, visiting his son, and spoiling his grandson, Jaden.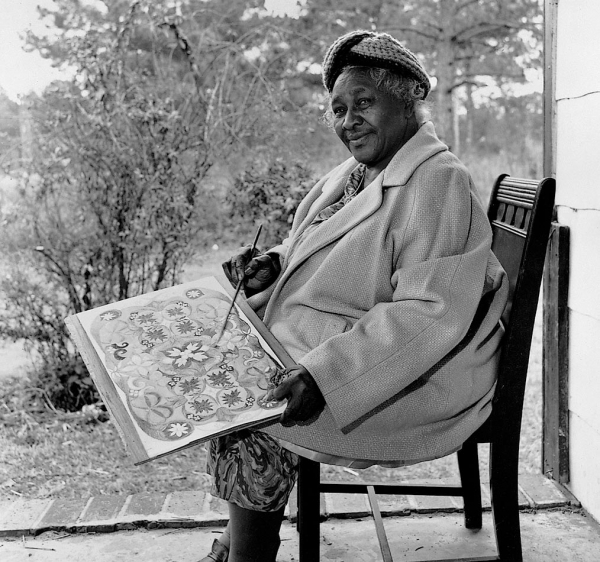 View More Events By Type
Audiences
Exhibitions
Categories
Events Navigation