Ackland F.A.M. | Art All Around You
Sunday, December 12, 2021 | 1:00 p.m.
–
5:00 p.m.
Did you know that art can be found all around you? Carolina's campus is filled with gems like Carolina Performing Arts' Memorial Hall and our very own Ackland Art Museum! This December, our Ackland F.A.M. theme is Interactive Art. Find out more ways to get involved below:
VISIT THE ACKLAND
Family & Friends Sunday
December 12 | 1:00 – 5:00 p.m.
Interact with Mysterious Ink World, Part One (2016), a collaborative contemporary work featured in the Ackland Art Museum's newest installation of Asian art, Clouding: Shape and Sign in Asian Art.
ART-MAKING
December 3 – 17 | Ackland Art Museum
Pick up a Family Art Kit inspired by Mysterious Ink World, Part One (2016) and Atmospheric Memory. Both art installations rely on audience participation: your movement, your choices, your body! Kits will be limited to one per person and will be available for pick-up while supplies last.
Download PDF instructions here
Supplies needed: Watercolor paints, brushes, white crayon, cup of water, your imagination
FAMILY SCAVENGER HUNT
Inspired by Ghost of a Dream's Aligned by the Sun (through the revolution), wander through the galleries looking for colors and shapes related to the sun. Pick one up at the Front Desk!
Aligned by the Sun (through the revolution) is a seven-channel video installation created specifically for the Ackland Art Museum that uses the formal positioning of the horizon line to connect each video of the sun.
WATCH
Hear from artistic collaborators Ming Ren (American, b. 1956) and Hansong Zhang (Chinese, b. 1969), as they explain the process behind creating Mysterious Ink World, Part One (2016).
BUY TICKETS TO ATMOSPHERIC MEMORY AT CAROLINA PERFORMING ARTS
December 2 – 17 | Memorial Hall at UNC-Chapel Hill
General Admission tickets are $15.00 | Purchase Here
Experience a unique, immersive art environment where you control interactive artworks while surrounded with light, sound, and colossal projections.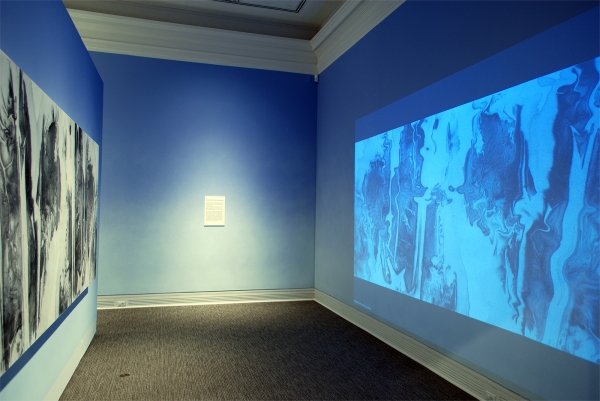 View More Events By Type
Audiences
Exhibitions
Categories
Events Navigation