Intergalactic Soulstice: A Virtual Afrofuturist Arts Festival
Friday, June 19, 2020
–
Sunday, June 21, 2020
Intergalactic Soulstice is a virtual Afrofuturist festival inspired by ART& Intergalactic Soul: Project LHAXX at the Ackland Art Museum. Join us June 19—21 to experience the full schedule of programs.
Puppeteer Jeghetto Performs 5P1N0K10 (Spinokio), a Hip-Hopera, LIVE
Friday, June 19 at 3:30 p.m. EDT
Followed by a live Q&A with the artist.
Live virtual performance on Zoom, free registration required.
Learn more!
Quentin Talley and the Soul Providers Play Extended Set of Jazz/Funk/Soul
Saturday, June 20 at 8 p.m. EDT
Accompanied by a live Q&A with the artists.
Youtube Premiere on the Ackland Art Museum's Channel.
Learn more!
Comic Book Drawing Workshop with Marcus Kiser and Jason Woodberry of Intergalactic Soul
Sunday, June 21 at 11 a.m. EDT
Live virtual workshop on Zoom, free registration required.
Learn more!
Virtual Family & Friends Sunday: Project LHAXX
Sunday, June 21 from 2-5 p.m. EDT
Live story time at 2:30 p.m. and downloadable DIY art activities inspired by the Afrofuturist installation Project LHAXX all afternoon.
Learn more!
Intergalactic Soulstice is funded in part by a grant from Arts Everywhere and supported by the North Carolina Arts Council, a division of the Department of Natural and Cultural Resources.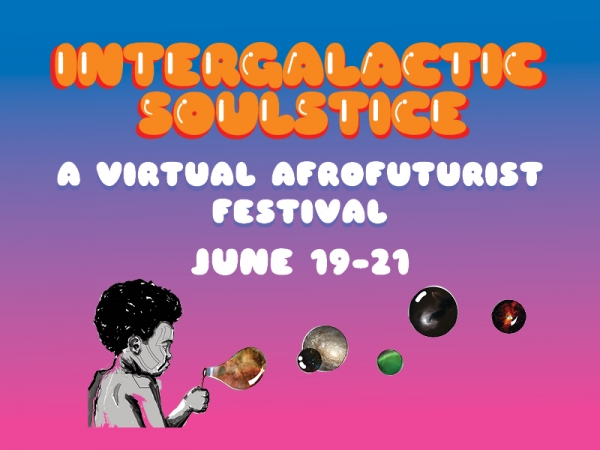 Additional Event Details
Sponsored by
View More Events By Type
Audiences
Categories
Events Navigation